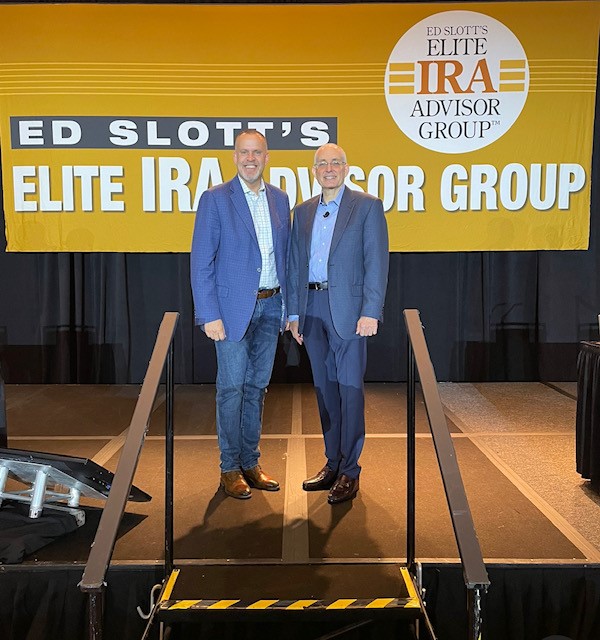 Local Financial Advisor Completes Training from
America's IRA Experts at Ed Slott and Company, LLC
Following the SECURE and CARES Acts, Members of Ed Slott's Master Elite IRA Advisor GroupSM Attended a Semiannual Workshop on The Latest Retirement Account Planning Strategies, Estate Planning Techniques and Tax Laws
MESA, AZ – MAY 12-14, 2022 – BRAD COOPER, FINANCIAL ADVISOR OF COOPER FINANCIAL INVESTMENTS, LLC completed his semiannual training with America's IRA Experts at Ed Slott and Company, LLC by participating in a workshop May 12th-14th, 2022, in Kansas City, MO. The workshop, which was attended by members of Ed Slott's Master Elite IRA Advisor GroupSM, provided in-depth technical training on advanced retirement account planning strategies, estate planning techniques as well as an in-depth look at how sweeping retirement and tax law changes under both the SECURE and CARES Acts have impacted financial planning in 2022 and beyond.
"2022 has been an unprecedented year and with the significant policy changes we have seen under the SECURE and CARES Acts and recent IRS interpretations; these laws have had both a temporary and long-lasting impact on the way Americans plan for their retirement. With so many families facing early retirement or lay-offs surrounding the pandemic, carefully navigating critical rollover decisions with a trained, skilled professional is more important than ever," said Ed Slott, CPA, founder of Ed Slott and Company, AARP columnist and a nationally recognized IRA expert who was named "The Best Source for IRA Advice" by The Wall Street Journal. "I commend Cooper for continuously prioritizing his education throughout this ever-changing retirement planning landscape. He is going above and beyond to deliver informed and accurate financial guidance to his clients in a time when it's needed most. With this ongoing training, Cooper can offer the latest insight on any necessary updates one may need now and into the future."
Highlights from this event included: A review of the SECURE Act and the end of the stretch IRA; CARES Act updates including 2022 RMD changes, Roth conversions, an in-depth look at how to advise clients on key rollover decisions; how to update IRA trust plans after the SECURE Act; an advanced look at Qualified Charitable Distributions (QCDs,) including the most asked questions about QCDs and how to avoid common mistakes; an update on 60-day rollover rulings; and, a look at 2022 IRA cases and judgments.
Training was provided by Ed Slott and Company's team of retirement experts, including Ed Slott, CPA; Sarah Brenner, JD; Andy Ives, CFP®, AIF®, and Ian Berger, JD. Ed Slott and Company and many of the advisors in Ed Slott's Master Elite IRA Advisor GroupSM are the go-to resources for attorneys, CPAs and other financial advisors because of their in-depth knowledge and expertise in all areas of retirement account and income planning. This workshop also provided approved continuing education (CE) credit through American College, CFP® Board, IRS and CPE for retirement savings and income planning, federal tax law topics and general financial education.
Members of Ed Slott's Elite IRA Advisor GroupSM have year-round access to Ed Slott and Company's team of retirement experts for consultation on advanced planning topics. The membership also includes step-by-step processes, including the Complete IRA Care Solution™ 30-module planning guide. Members also have access to proprietary worksheets, pamphlets and presentations, including 2022 Retirement Plan Changes, 2022 Year-End Checklist, and Retirement Plan Payouts to Beneficiaries Under the SECURE Act that they can use when working with clients.
"From temporary law changes to new permanent policies, such as the elimination of the stretch IRA, there are a lot of new retirement planning rules for Americans to navigate, and it can be difficult to understand when and where your financial plan needs updates," said Cooper. "Through my membership with Ed Slott and Company, I am up-to-speed on the latest retirement laws and strategies. As we prepare for 2022, I am confident that I have the knowledge and support needed to help my clients implement the financial strategies that are in their best interest."
"The members of our Elite IRA Advisor GroupSM are taking the lead in helping their clients navigate one of the most uncertain and difficult periods in American history," said Slott. "The SECURE and CARES Acts are far from the last changes we will see for the retirement planning landscape, but our members will continue to receive the latest alerts and training on changes to retirement and tax law and policies so they can proactively serve their clients."
Cooper can be contacted for more information on IRA and retirement-related questions. Please visit www.cooperfinancial.com or call 888-390-5277.
ABOUT ED SLOTT AND COMPANY, LLC: Ed Slott and Company, LLC is the nation's leading provider of technical IRA education for financial advisors, CPAs and attorneys. Ed Slott's Elite IRA Advisor GroupSM is comprised of more than 400 of the nation's top financial professionals who are dedicated to the mastery of advanced retirement account and tax planning laws and strategies. Slott is a nationally recognized IRA distribution expert, best-selling author and professional speaker. He has hosted several public television specials, including "Retire Safe & Secure! with Ed Slott" and his latest book "The New Retirement Savings Time Bomb" will be released in March 2021. Visit irahelp.com for more information.
ABOUT COOPER FINANCIAL INVESTMENTS, LLC:
Whether you are a pre-retiree, retiree or conservative investor, we want you to have a better financial future. We want you to have financial success for the next 25 years and not go backwards over time, by building a more secure portfolio. Brad E. Cooper is an Investment Advisor Representative and President of Cooper Financial Investments, LLC.
We understand the unique issues facing retirees and those saving for retirement, and we are committed to giving you the best advice and services possible. We specialize in financial planning for retirees and those transitioning into retirement. Our services encompass a management system that is designed to be defensive in bad economic times, and opportunistic in good times, education planning, referral partners for tax and estate planning. We take great pride in our relationship with our clients.
Brad Cooper is an investment advisor representative of Cooper Financial Investments, LLC, a state registered independent investment advisor, serving customers in Arizona and surrounding communities.
Brad's mission is to provide local families and businesses with innovative financial strategies, solutions and planning that can lead to financial clarity and security.
888.390.5277 www.cooperfinancial.com

Advisory Services offered through Cooper Financial Investments, LLC, a Registered Investment Advisor in the state of Arizona. Insurance products and services offered through Cooper Financial Group, LLC, an affiliated company. Cooper Financial Investments, LLC and Cooper Financial Group, LLC are not affiliated with or endorsed by the Social Security Administration or any government agency, and are not engaged in the practice of law. All written content is for information purposes only. It is not intended to provide any tax or legal advice or provide the basis for any financial decisions. The information contained herein is not an offer to sell or a solicitation of an offer to buy the securities, products or services mentioned, and no offers or sales will be made in jurisdictions in which the offer or sale of these securities, products or services is not qualified or otherwise exempt from regulation. The information contained in this material have been derived from sources believed to be reliable, but is not guaranteed as to accuracy and completeness and does not purport to be a complete analysis of the materials discussed.